May 22, 2023
Roger Tilles, Honorary Degree Recipient, Commencement Address
---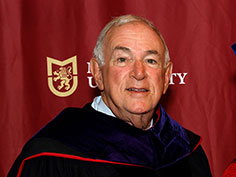 I am especially proud to be here today and receiving an honorary Doctor of Laws degree. In addition to growing from a college to a university, Molloy has grown significantly in its stature and its impact on Long Island. I've been privileged to attend many events here and have gotten to know President Lentini very well. I was pleased to assist with the nursing program and the university approval from the Board of Regents. I take personal pleasure in being an active and founding member of the Energeia program which Molloy operates and has had such a significant impact on many cohorts of Long Island leaders. Being a Molloy graduate will be an honor that I hope all of you realize is to be cherished.
Thanks also to the Board of Trustees for giving me this honor. As a former member and Chair of the Long Island University Board, I know that the Board members work tirelessly on behalf of you, the students.
An old farmer was sitting out on a fence- behind him a meticulously groomed field-planted with wheat, corn, barley, string beans, tomatoes, what have you. A Minister came by, saw the beautiful field, and said, "truly a miracle."
The only farmer said, "yes, I had to work very hard to get it to this point. I tilled it, I planted it, I irrigated it, I fertilized it and I'll reap it soon."
The Minister then, obviously discouraged, said, "but you make no mention of God- all you said was 'I did this, and I did that.'" With a little grin and a twinkle in his eye the old farmer answered, "I'm sure that God had something to do with it, but you should have seen it when he was taking care of it by himself!"
Well, as the farmer says, your hard work will have its results, but sometimes you might not see the results of your labors right away or even at all- but good work will have effects, small or large, of which you have never dreamed.
Let me offer these prayers for you today:
         May you find a way to travel from anywhere to anywhere in the rush hour on Long Island in less than an hour and when you get there, may you find a parking space.
May you have the strength to make the world a little better because you were important in the life of a child.
And lastly, from my heart, may what you see in the mirror delight you- and what others see in you delights them.
Thank you for this great honor.
Congratulations to all of the graduates!!!