May 01, 2023
Diversity and Inclusion, and Cybersecurity Minors Showcase Cross-Collaboration
---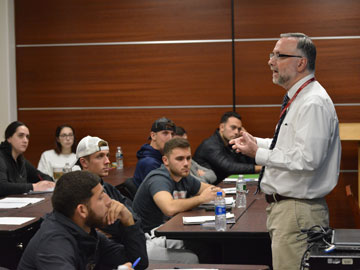 Two of the newest academic minors at Molloy University—Cybersecurity and Digital Forensics and Diversity and Inclusion Studies—respond to current needs in the workplace and broader society and they benefit from the cooperation of different schools and programs.
Diversity and Inclusion Studies, a 15-credit minor in the Department of Sociology and Anthropology in the School of Arts and Sciences, offers students the opportunity to take two courses from a broad range of subject areas including art, communication, Spanish, social work and theology, along with three required courses in sociology, including two new ones, Sociology of Inclusion and Equity and Environmental Inequality and Justice, beginning in fall 2023.
The cross-collaboration that resulted in the inclusion of various liberal arts course subjects was an intentional effort that stoked enthusiasm across the board, explained Jeanne Kimpel, Ph.D., chair and assistant professor of Sociology and Anthropology.
"In Arts and Sciences, we want to work together to promote the importance of a liberal arts background in education," Dr. Kimpel said. "I said, 'Let's see how I can assist the other departments in increasing students in their classes as well.' 
Some students may already have amassed general education credits in courses that can be applied to the minor, which is open to all Molloy undergraduates. 
A similar spirit of cooperation among different schools sparked the Cybersecurity and Digital Forensics minor, said John Eterno, Ph.D., professor and graduate program director of the Department of Criminal Justice and Legal Studies in the School of Arts and Sciences.
Dr. Eterno worked on the 20-credit minor, debuting in the fall, with the Continuing Education Department and the School of Business.  "We have a very good relationship with other schools," he said.
Cybersecurity course offerings were already an important part of the Continuing Education curriculum at Molloy. The undergraduate minor exposes a greater number of students to a contemporary issue and a field of burgeoning employment where their skills will be highly sought.  
As cybersecurity concerns like affect individuals through identity fraud and threaten infrastructure and even natural resources, they point out the importance of effective counter measures including education.
"It's necessary for the world we live in," said Dr. Eterno, a retired NYPD captain.
The deleterious effects of cybersecurity problems spread beyond affected individuals by causing people "to lose faith and trust in the systems we currently have," Dr. Eterno said.
The new minor has received a high level of inquiries and that the initial course offering, Cybersecurity 1, has proved popular, with 20 students already registered, Dr. Eterno said. More students are expected to enroll for this first of two foundational cybersecurity four-credit courses.
The 12 elective credits are comprised of three-credit criminal justice and business courses.
Criminal justice majors are particularly well suited to the Cybersecurity and Digital Forensics minor, because of their background in law, research and report writing and their ability to pick up on patterns and build cases, Dr. Eterno said.
Business students, especially those with a finance background, and others majoring in political science or computer science may also be good candidates. 
Students who complete the Cybersecurity 1 and 2 courses and the other coursework for the minor will be prepared to pass the Comp TIA testing that is a precursor to certification and a gateway to employment.
Knowledge and skills gained in their studies will enable students to be good candidates for employment as "cybersecurity helpers," Dr. Eterno said.
According to program materials, graduates could potentially use their acquired skills in private industry and government to serve as postal inspectors, loss prevention detectives and other security posts, computer analyst and technology jobs, and computer infrastructure protection positions.
The Diversity and Inclusion Studies minor started off with a name change from Tolerance Studies back in the 2020-21 academic year. The previous title was "an antiquated term" that did not reflect the minor's current focus on "diversity, equity and inclusion," Dr. Kimpel said.
She explained that sociology and anthropology faculty members address inequality with students in matter of race, ethnicity, gender, class and disability to expand their knowledge base and provide them with key cultural tools and skills.
The knowledge and skills gained are beneficial in daily living at home and in the workplace, where businesses are seeking employees "that can embrace everyone and work in a collective, productive way with people from a variety of backgrounds," Dr. Kimpel explained.
She said, "This minor promotes the mission of Molloy University with a goal of providing a transformative education which contributes the development of a respectful, global, active participant who promotes social justice, diversity, equity, inclusion and belonging." 
Many students at Molloy are first-generation college students and classroom rosters are now more diverse than in earlier decades. Dr. Kimpel said students in her introduction to sociology course are eager to talk about issues of race, gender identity and inequality. "They're more engaged these conversations," Dr. Kimpel said, "because it affects their lives."
Although the introduction of the two new courses in the fall will help to bring the new minor to fruition, Dr. Kimpel feels it will continue to be "a work in progress."
"The idea is that this minor can be paired with every major," Dr. Kimpel said. "It will only enhance people's marketable skills in the workplace."
She thinks the cross-collaboration between the different departments will pay dividends for Molloy University and its students as they are transformed into global citizens.