School of Arts & Sciences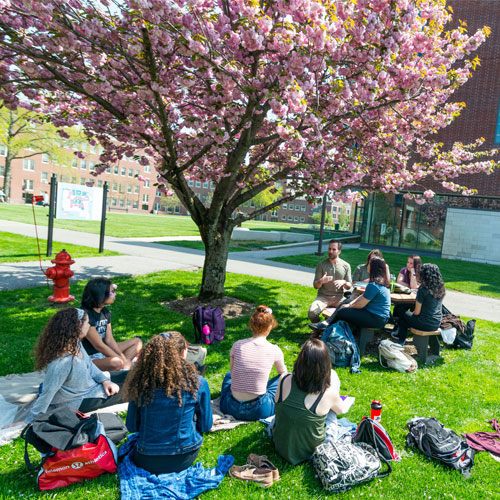 The School of Arts and Sciences at Molloy University is taking liberal arts learning to exciting new heights
---
The School of Arts and Sciences, established in 2018, carries on a great tradition at Molloy University: educating thousands of students with liberal arts and sciences degrees that have led to fulfilling and lucrative careers. The formula to this successful approach is simple:
Cultivating our students into the critical thinkers necessary for success in today's complicated and challenging workplace.
Comprehending the interconnected nature of the world by offering foundational, responsive, transformative interdisciplinary undergraduate degrees.
Connecting that cross-disciplinary approach to experiential learning – internships, study abroad, lab experiences, service learning, undergraduate research and creative expression – which becomes a stepping stone to a career immediately upon graduation.
The School of Arts and Sciences at Molloy University is taking liberal arts learning to exciting new heights, with undergraduate and graduate programs in disciplines ranging from Biology to Theology, Art, Communications, Computer Science, Criminal Justice, Psychology and more.
Preparing you for a lifetime of opportunities
---
Founded in 2018, the School of Arts & Sciences brings the liberal arts programs together to further the mission of Molloy University. We are a diverse community of learners dedicated to preparing our students to be educated, engaged, empowered, ethical leaders and citizens. Studying the liberal arts will lead you to jobs you could never have even imagined and will equip you with a lifetime of skills you will need to succeed no matter what path you choose. What can you do with a liberal arts degree? Anything you want!
Explore our diverse programs
---
The School of Arts & Sciences is home to more than two dozen undergraduate majors and graduate programs, serving about 950 students majoring and minoring in these programs, with 75 full time and 180+ part time faculty experts.
School of Arts & Sciences Fall 2023 Events
---
Each academic year, the School of Arts & Sciences sponsors scholarly, research-oriented and creative events, many of which are open to the entire Long Island community. We also offer departmental and career sessions where you can learn more about our many programs and the types of careers you can pursue by studying the liberal arts.
Our students transform communities through meaningful careers
---
School of Arts & Sciences
---
Gina M. Florio, Ph.D., Dean
Siena Hall 106
1000 Hempstead Ave.
Rockville Centre, New York 11570

---