Campus Ministries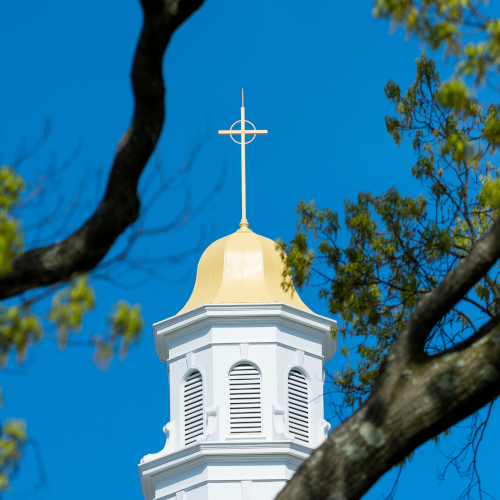 The office of Campus Ministries is rooted in the Dominican Charism and the four pillars of study, service, spirituality, and community. With a foundation of Catholic identity, Campus Ministries brings together students and employees in the common search for Truth in the Dominican Way in an accepting and inclusive environment. Campus Ministries sponsors retreats, masses, prayer services, and service experiences both locally and globally.
The office of Campus Ministries is located in Public Square 390. All are welcome to come relax in the campus ministries lounge where we offer friendly hospitality to students and employees. The Sacred Heart Chapel is located in the parking lot between Fitzgerald Hall and the Hagan Nursing Center and is open for all students when the College is in session. The Campus Ministries Team, consisting of two campus ministers, a chaplain, and the coordinator of campus ministries, is always available to meet with students or employees on an individual basis and in a confidential manner. The Campus Ministry Team works collaboratively with students, including the Mission Scholars and HOPE Team, to empower students to expand the influence of Campus Ministries on the Molloy College campus. For further details, call the office at 516.323.3224.
Mike Malinowski, Campus Minister
Public Square 390
516.323.3225
mmalinowski1@molloy.edu
Michelle Martin, Campus Minister 
Public Square 390
516.323.3226
mmartin2@molloy.edu
Opportunities for Prayer

Daily mass every Monday through Friday at 12:15 p.m. in Sacred Heart Chapel.
Evening mass every Sunday during the academic year at 8 p.m. in the Sacred Heart Chapel.
Join the liturgical ensemble. Use your musical talents, voice or instruments to enhance our masses and prayer services throughout the year.
Liturgical ministers, extraordinary ministers of the eucharist, lectors, altar servers, ushers and gift bearers are all needed at various times for our masses and prayer services.
The sacrament of reconciliation with the College chaplain.
Weekly advent and lenten prayer sessions during the liturgical seasons.
If you have not received all of the sacraments or you would like to find out about becoming Catholic, please come and talk with us.
The Sacred Heart Chapel is open day and evenings. All are welcome.

Opportunities for Service

Appalachia project: Spend a week in the summer at the Big Laurel Learning Center in Naugatuck, West Virginia running a camp for children. Experience the beauty of the people and the land.
Bethany House Experience: Come and spend an evening with women and children of Bethany House. Learn what it is like to be homeless on Long Island.
Boxtown at Molloy College: Sleep out, overnight in a box and raise funds for Bethany House. Learn about and experience the life of the homeless for a night.
Midnight Run: Collect, prepare and deliver food and clothes by van to the homeless on the streets of Manhattan between the hours of 10 p.m. and 3 a.m.
Serving the poor at home: Local soup kitchen and outreach center.    
Sponsor a family: Be Santa for a family in need. Gift-giving to specific families of Our Lady of Loretto parish who will have little at Christmas.
El Salvador: Spend a week in Sol Naciente, El Salvador assisting Sister Flor de Buruca,O.P in running a camp for children.
Homecoming Farm: Spend a day on the motherhouse grounds of the Dominican Sisters of Amityville working on an organic farm.
Urban Challenge: Spend 3 days during Spring Break at the Romero Center serving the people of Camden, New Jersey.

Opportunities for Community

Spend time in our lounge, Public Square Room 390, to study, meet other students or just to relax during the day.
The campus ministers and chaplain are always available if you need someone to talk to. No appointment necessary.
There are two scheduled overnight retreats off-campus during the fall and spring semesters.
Contact Us
---
Vice President, Mission and Ministry
Catherine Muscente

---
Executive Assistant, Mission and Ministry
Jacqueline Williams

---